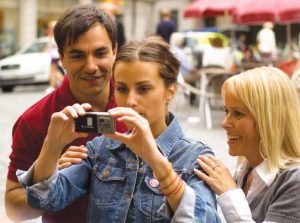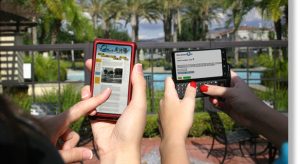 For your next conference or convention… introducing our fun, new big event service:   Behind-the-scene treasure hunts.
Let's break that down a bit:
"Treasure hunts" are clue-based games where puzzles lead people to various locations in a given area.  The key is the clues, which can be in Pig Latin, code, cipher, anagrams, trivia, etc.  Think National Treasure or Goonies.
"Behind-the-scenes" means that the game is happening "a-synchronously".    Participants don't miss any conference sessions or activities! In a "behind-the-scenes" game, participants get into small teams, download a treasure hunt app, and solve clues throughout the event, whenever they see fit.
–Our signature treasure hunt app features a variety of fun challenges, a live leaderboard and a live feed.    It also allows for instant media downloading at the end, so we can conclude your event with a slide show.
–The clues are all worth points based on difficulty, they all stand alone and are independent, and participants can solve the clues in any order that they like.   The team with the most points at the end, wins.
–Some clues are puzzle based, leading to site-specific locations at your events.  Some are photo challenges. Some are video challenges.  Some are even multiple choice quizzes.
Here are some screen shots: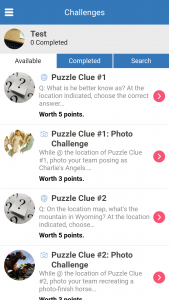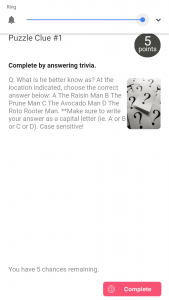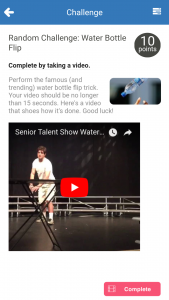 Outcomes:
Increased awareness of your teammates' strengths and weaknesses
Bonding and heightened morale
Integration of new members into the team
Practice at delegation and the leveraging of diverse skills and knowledge
A fun way to explore your conference space
Features:
CLUES CUSTOMIZED TO YOUR CONFERENCE, upon request.
Full team-building facilitation, customized to your team's current issues and challenges
SMART PHONE APP  incorporating photos, video and augmented reality.   All photos are available for download upon completion of the event
Post-hunt video slide show
Pricing:  Our fees are based on your estimated headcount.
Note: Travel costs may apply for locations outside of the San Francisco Bay Area.
[When you're ready, click HERE to tell us all about your needs or call us at 415-699-3905 to discuss pricing.]