We take you all around the city!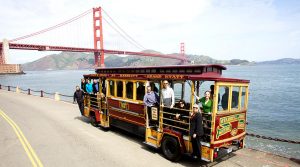 Venue Description:  In this all-day, all-San Francisco treasure hunt/tour, it's "All Aboard" as we span the City on our very own MOTORIZED CABLE CAR, taking in the sights while sampling two of Dr. Clue's most popular Treasure Hunt Locations: North Beach/Chinatown & Fisherman's Wharf.  It's a full day of touring and team building in America's favorite city!
During your all-day corporate teambuilding exercise… you'll retrace the City's remarkable journey from sleepy Western outpost to vibrant cosmopolitan metropolis. The journey begins with a multi-hour city tour aboard a motorized cable car, checking out such famous sights as AT& T Park, SoMA, Pacific Heights and the Golden Gate Bridge. From there, we settle down for some "serious" corporate teambuilding and treasure hunting in Fisherman's Wharf, with swooping seagulls, barking sea lions, & the aroma of cracked crab as a background. After lunch, it's on to North Beach and Chinatown, San Francisco's oldest and most-scenic neighborhoods.
Not every corporate teambuilding program is the same.  Depending on your group, your focus may be integrating new people into the team and breaking down personal boundaries and divisions.    Or you may have an existing department where teams could, with a little practice, cooperate and communicate more smoothly across teams and divisions.  Or you might simply have a group that thrives on the use of technology.  Let us know your needs and we'll tailor the program precisely for your group!
The All-San Francisco Teambuilding Itinerary
Guided City Tour by Motorized Cable Car, from downtown to Golden Gate Park – 5-6 hours with travel
Introductions/Ice Breakers/Rules–30 minutes
Stage 1 Hunt — 45 minutes (North Beach)
Stage 2 Hunt –45 minutes   (Golden Gate Park)
Stage 3 Hunt — 45   (Fisherman's Wharf)
Team Building Wrap-Up & Discussion–30 minutes
See all of our San Francisco corporate team building programs, both indoors and outdoors.