A great place to hold a corporate team building event in Hollywood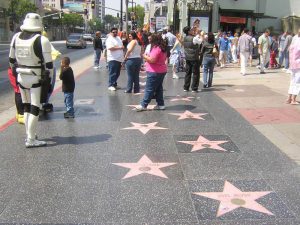 Event Description: An exciting place to participate in a corporate teambuilding event, Hollywood retains its historic sparkle, with movie theaters galore, high-end shopping and dining, and of course, the Walk of Fame.
Location History: A sleepy town up until the turn of the 20th Century, Hollywood burst onto the international scene in 1910 when D.W. Griffith shot his 17-minute short film, In Old California, the first movie to be filmed in Hollywood.  During the next decade, four major studios were to set up shot in the area:  Paramount, Warner Brothers, RKO, and  Columbia.  Tinseltown –referring to the glittering nature of the movie industry –was born. 
During your corporate teambuilding treasure hunt… expect to encounter a variety of characters in costume; mammoth movie star murals 2 stories tall; stars and more stars; the famous hand prints at the Chinese Theater, and much, much more.
Dr. Clue Gives You Three Ways to Customize Your Hunt Program
Not every corporate team building program is the same.  Depending on your group, your focus may be integrating new people into the team and breaking down personal boundaries and divisions.    Or you may have an existing department where teams could, with a little practice, cooperate and communicate more smoothly across teams and divisions.  Or you might simply have a group that thrives on the use of technology.    Let Dr. Clue customize your hunt program by selecting the content focus that best matches your group and your needs.   Read more about our 3 ways to customize your teambuilding event.
Itinerary
Gather on the grass at Franklin and Sycamore
Introductions/Ice Breakers/Rules–30 minutes
Stage 1 Hunt — 45 minutes (optional)
Midbrief and Discussion of Roles & Ground Rules — 30 minutes
Stage 2 Hunt –90-120 minutes
Team Building Wrap-Up & Discussion–30 minutes
Lunch/Dinner/Drinks at a Local Restaurant (optional):
Arrangements for and cost of dining not included in price quote.
See our other Los Angeles corporate team building events.
Check out all of our Southern California corporate team building events.