When booking a premium scavenger hunt program, the last thing you want is to feel that the clues are canned, generic or "off the rack".  You want your hunt to be designed FOR YOU!
For this reason, Dr. Clue offers free clue customization in ALL of our programs.  That means that we will happily work YOUR information into the clues (something that no other hunt company would even think of doing).
Listen in as Dave Blum, Founder and President of Dr. Clue, talks about how we customize our teambuilding scavenger hunt clues: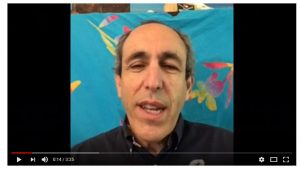 For example, last December a client asked us to create a "holiday hunt", to make their Christmas party more festive and interactive.   Here's one of the clues we wrote for them: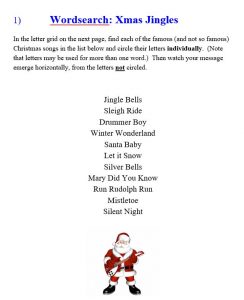 (view a large version of the clue here)
All the phrases in the word search are Christmas carols.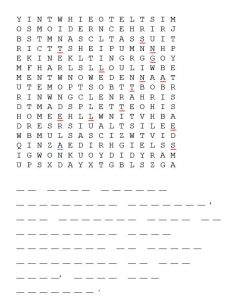 (view a larger version of the clue here)
After circling all the Christmas carols in the word search, the letters NOT circled spelled out your secret message (which you put in the blanks below).
Another client asked us to create a hunt at Universal Studios in which half the clues were related to Harry Potter.
Here's a sample clue that really tested everyone's Potter knowledge!   Participants received a multiple-choice, Harry Potter-related trivia quiz.  The correct response for each question gave them a series of three letters. Put the letters together and you spell out your secret directions.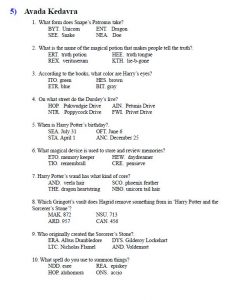 (click here to see the whole clue, in blow-up size)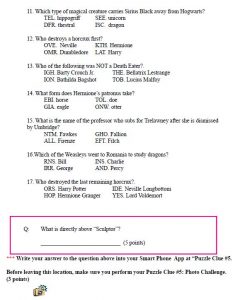 (click here to see the whole clue, in blow-up size)
These are only two examples of custom clues.  Let us work all of your organizational information into your hunt clues, potentially including:
Your company mission
Your vision
Your key stakeholders
Your key products
Your international locations
The names of hunt participants
The possibilities are endless.  Only at Dr. Clue!
testimonial & partner
What our clients says?

Annie Li
Autodesk

I loved the evolution of learning and cooperation that developed at each successive level.

Michelle Skorka
Sun-Netscape Alliance

The hunt you planned for us was awesome, creative, challenging and most of all FUN!

Wayne Dabney
Liz Clairborne

I loved the examples of clues & the focus on team collaboration.

Mark Palmer
Conoco Phillips

I liked that some of the clues required or promoted collaboration with other groups.