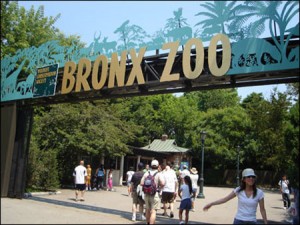 Total Hunt Time
About 3 to 4 hours, depending on options selected
Watch our 2-minute video preview to see what a typical Dr. Clue program looks and feels like!
One of the world's largest metropolitan zoos, the Bronx Zoo showcases some 4,000 animals representing about 650 species. Built upon grounds once owned by Fordham University and later sold to the City of New York for a mere $1,000, the Zoo opened its doors to the public on November 8, 1899.  Architects Heins & LaFarge designed the original permanent buildings (many still seen today) as a series of majestic, Beaux-Arts pavilions grouped around the large circular sea lion pool.  The Bronx Zoo today combines the elegance of the turn of the century with today's state-of-the-art exhibits and attractions. During your treasure hunt here, expect to visit the wilds of Madagascar; encounter a piece of water pipe from Pompeii; stand up to giant rhino statues honoring matriarch Bessie; undulate with an ungulate, and much, much more.   Get your Indiana Jones on in the wild, wild Bronx Zoo.
Itinerary
Gather at any entrance of the zoo
Introductions/Ice Breakers/Rules–30 minutes
Stage 1 Hunt — 45 minutes (optional)
Midbrief and Discussion of Roles & Ground Rules — 30 minutes
Stage 2 Hunt –90-120 minutes
Team Building Wrap-Up & Discussion–30 minutes
Lunch/Dinner/Drinks at a Local Restaurant (optional):
Arrangements for and cost of dining not included in price quote.
Worried about Bad Weather? Check out our *INDOOR PROGRAMS* at the New York Met and the Natural History Museum!