A historic site to hold a team building scavenger hunt in the Alexandria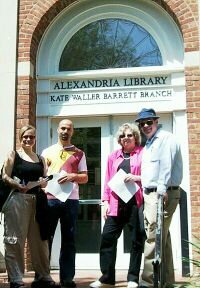 Event Description: An atmospheric site for a corporate team building event just minutes by car or Metro from America's capital, Old Town Alexandria is the place Washingtonians go to escape the hustle and bustle of the Beltway and return to their colonial roots.   Old Town has all you could want in a treasure hunt location: colonial architecture, historic buildings dating back to George Washington and the American Revolution, and tree-lined cobblestone streets just ripe for exploration.
Location History:  From Scotsman John Alexander's purchase of the land in 1669 for 6000 lbs. of tobacco and cask, to Washington's drilling of his militia troops, to England's occupation during the War of 1812, Alexandria has always been the center of the action.
During your corporate team building treasure hunt… expect to visit an English country church once attended by Robert E. Lee; an authentically-restored 18th century tavern/hotel; a pharmacy dating back to 1792; and a WWII torpedo factory converted into three stories of glittering art galleries.
Not every corporate team building program is the same.  Depending on your group, your focus may be integrating new people into the team and breaking down personal boundaries and divisions.    Or you may have an existing department where teams could, with a little practice, cooperate and communicate more smoothly across teams and divisions.  Or you might simply have a group that thrives on the use of technology.    Let Dr. Clue customize your hunt program by selecting the content focus that best matches your group and your needs.
Here's Dr. Clue himself, Dave Blum, sharing his thoughts about this teambuilding scavenger hunt:

Itinerary
Gather in front of City Hall, King St. near Royal
Introductions/Ice Breakers/Rules–30 minutes
Hunt ~120 minutes
Team Building Wrap-Up & Discussion–30 minutes
See our other Washington D.C. corporate team building events.
[When you're ready, click HERE to tell us all about your needs or call us at 415-699-3905 to discuss pricing.]