A great place to hold a team building scavenger hunt in Berkeley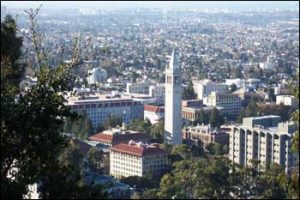 Event Description: The UC Berkeley Campus is a great place for a teambuilding activity, boasting rolling hills, rushing streams, and a variety of fascinating pieces of public art.
Location History:  The product of an early merger between the College of California (a private institution) and the Agricultural, Mining, and Mechanical Arts College (a land grant institution), the University of California Berkeley (known widely as "Cal") was founded as an attempt to create a "complete university", where students could study both the classical and the practical. The campus' unique look owes much to an early 20th century architectural competition, won by Emile Bénard of Paris, who brought Berkeley not only a building plan but worldwide notoriety. The university's academics are equally impressive, with twenty of its faculty having been awarded Nobel Prizes.
During your teambuilding treasure hunt… you may see a giant mosaic, a statue of a bear (of course), a pyramid, some historic scientific apparatus, and much more.
Here's Dr. Clue himself, Dave Blum, sharing his thoughts about this teambuilding scavenger hunt:

Not every corporate team building program is the same.  Depending on your group, your focus may be integrating new people into the team and breaking down personal boundaries and divisions.    Or you may have an existing department where teams could, with a little practice, cooperate and communicate more smoothly across teams and divisions.  Or you might simply have a group that thrives on the use of technology.    Let Dr. Clue customize your hunt program by selecting the content focus that best matches your group and your needs.
Berkeley Team Building Itinerary
Gather outside Sproul Plaza
Introductions/Ice Breakers/Rules–30 minutes
Hunt ~120 minutes
Team Building Wrap-Up & Discussion–30 minutes
See all of our Bay Area corporate team building events.
[When you're ready, click HERE to tell us all about your needs or call us at 415-699-3905 to discuss pricing.]