An interesting site to hold a team building scavenger hunt in the New York Flat Iron District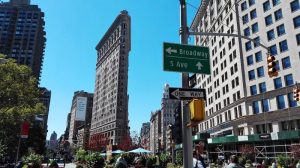 Event Description: An intriguing, non-touristy site for a corporate team building event, the Flatiron District/Gramercy Park area — bounded by, Greenwich Village to the south, Chelsea to the west, Midtown South to the north and Lexington Avenue to the east — is a fascinating, rapidly developing residential area with a rich and varied history.
Location History: Previously known as the "Photo District" for the large number of photographers' studios, and the "Toy District", for the toy manufacturers located in the nearby Toy Center buildings, this area is at the heart of traditional Manhattan. It boasts the eponymous Flatiron Building — one of the oldest of the original New York skyscrapers; Madison Square Park — the "birthplace of baseball" where Alexander Cartwright formed the first baseball club, the New York Knickerbockers, here in 1845; and Gramercy Park — offering views of some of the most prestigious residences in pre-Civil War New York.
During your corporate team building treasure hunt… expect to see a little-seen Holocaust memorial; the birthplace of one of greatest presidents; the home of a famous American writer, and much more!
Not every corporate team building program is the same.  Depending on your group, your focus may be integrating new people into the team and breaking down personal boundaries and divisions.    Or you may have an existing department where teams could, with a little practice, cooperate and communicate more smoothly across teams and divisions.  Or you might simply have a group that thrives on the use of technology.    Let Dr. Clue customize your hunt program by selecting the content focus that best matches your group and your needs.
Here's Dr. Clue himself, Dave Blum, sharing his thoughts about this teambuilding scavenger hunt:

Itinerary
Gather in Gather in Madison Square Park
Introductions/Ice Breakers/Rules–30 minutes
Hunt ~120 minutes
Team Building Wrap-Up & Discussion–30 minutes
See all of our New York corporate team building events.
[When you're ready, click HERE to tell us all about your needs or call us at 415-699-3905 to discuss pricing.]