A high-altitude place to hold a team building scavenger hunt at Lake Tahoe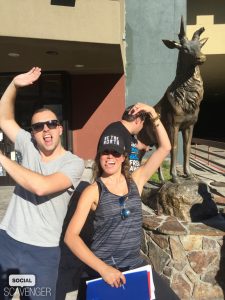 Perhaps it's natural that when you come to South Shore Lake Tahoe, you tend to gravitate towards the casinos.   They're great!   The thing about casinos, though, is there's always more to do here than gamble.   Casinos bring in public art. They highlight the area's history with plaques and signage.  They decorate and adorn with interesting touches that make for great scavenger hunt locations.   This hunt is fairly compact and sends all around the casino area, on both sides of the state line.   Come do our scavenger hunt, then celebrate somewhere nearby with a nice meal and an adult drink!

Event Description: Taking part in a teambuilding program in South Shore is no gamble — it's a sure thing! A fun and varied venue for team development, Dr. Clue's South Shore hunt will have you exploring the various gaming halls and attractions of the South Shore casino resorts as well as the entertainment complex around the Heavenly Valley gondola.
Location History: "Lady Luck" first arrived here in 1944, when Harvey's Wagon Wheel Saloon and Gambling Hall opened up as the area's first gaming establishment and put South Shore Lake Tahoe on the map. Soon to follow were such popular casinos as Harrah's, the Horizon and Caesar's Palace. When the 1960 Winter Olympics came to Squaw Valley, South Shore Lake Tahoe became one of the top skiing centers of the western United States.
During your teambuilding treasure hunt… Expect to see historic photographs of comedians who have worked here over the years; a giant bear on skis; and a monument to the Pony Express.
Not every corporate team building program is the same.  Depending on your group, your focus may be integrating new people into the team and breaking down personal boundaries and divisions.    Or you may have an existing department where teams could, with a little practice, cooperate and communicate more smoothly across teams and divisions.  Or you might simply have a group that thrives on the use of technology.    Let Dr. Clue customize your hunt program by selecting the content focus that best matches your group and your needs.
Here's what Dr. Clue Founder Dave Blum has to say about this scavenger hunt: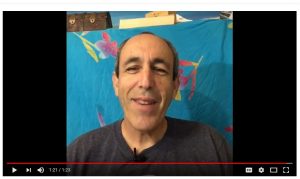 South Lake Tahoe Team Building Itinerary
Gather at your hotel meeting room
Introductions/Ice Breakers/Rules–30 minutes
Hunt ~120 minutes
Team Building Wrap-Up & Discussion–30 minutes
See all of our Bay Area corporate team building events.
[When you're ready, click HERE to tell us all about your needs or call us at 415-699-3905 to discuss pricing.]