A great place to hold a corporate team building scavenger hunt in Vancouver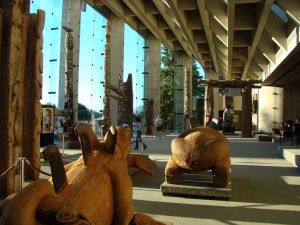 Event Description: Located on the Point Grey cliffs, on the campus of the University of British Columbia, Vancouver's Museum of Anthropology is a fun place for a corporate teambuilding event. Voted "Tourist Attraction of the Year – Canada" by the Canadian Travel & Tourism Industry Awards. Its cool and spacious halls house one of the world's finest displays of Northwest Coast First Nations art in a spectacular building overlooking mountains and sea. This is the place to learn about the Kwakwaka'wakw, Nisga'a, Gitksan, Haida, Coast Salish, and other Northwest Coast peoples. Everywhere you look you find totem poles, feast dishes, and canoes – as well as the world's largest collection of works by internationally acclaimed Haida artist Bill Reid, including his famous cedar sculpture 'The Raven and the First Men.
During your corporate teambuilding treasure hunt… expect to encounter a two-headed snake with renowned spiritual powers; a raven with a 20-letter name; a totem pole with a sea monster and much, much more.
Not every corporate team building program is the same.  Depending on your group, your focus may be integrating new people into the team and breaking down personal boundaries and divisions.    Or you may have an existing department where teams could, with a little practice, cooperate and communicate more smoothly across teams and divisions.  Or you might simply have a group that thrives on the use of technology.    Let Dr. Clue customize your hunt program by selecting the content focus that best matches your group and your needs.
Here's Dr. Clue himself, Dave Blum, sharing his thoughts about this teambuilding scavenger hunt: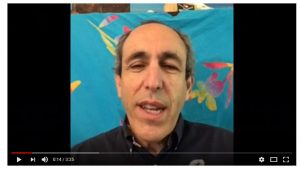 Itinerary
Gather at the entrance to the Museum of Anthropology.
Introductions/Ice Breakers/Rules–30 minutes
Hunt ~120 minutes
Team Building Wrap-Up & Discussion–30 minutes
See our other Vancouver corporate team building events.
[When you're ready, click HERE to tell us all about your needs or call us at 415-699-3905 to discuss pricing.]