A great place to hold a corporate team building scavenger hunt in Seattle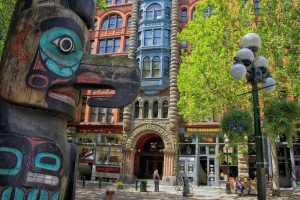 Event Description: Seattle's oldest neighborhood, Pioneer Square is is a great place for a corporate teambuilding event — a spot where you can feel the whispers of the city's rich, historic past. Turn-of-the-century street lamps line the square. Cobblestone streets abound. Stately red-brick Victorian Romanesque buildings lend warmth and a certain grandeur to the area. And underneath, the famed Underground Tour displays eerie sunken storefronts from the 1880s. Today, Pioneer Square is the home to art galleries, eateries, antique shops, cool restaurants and a buzzing nightlife, especially when the Seahawks are in town. But it's the echoes of the past, seemingly at your fingertips, that really bring Pioneer Square alive.
During your corporate teambuilding treasure hunt… expect to encounter a classic train station; a towering totem pole; a monument to fire fighters; the home of Seattle's first auction house, and a whole bunch more.
Here's Dr. Clue himself, Dave Blum, sharing his thoughts about this teambuilding scavenger hunt: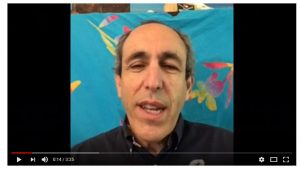 Not every corporate team building program is the same.  Depending on your group, your focus may be integrating new people into the team and breaking down personal boundaries and divisions.    Or you may have an existing department where teams could, with a little practice, cooperate and communicate more smoothly across teams and divisions.  Or you might simply have a group that thrives on the use of technology.    Let Dr. Clue customize your hunt program by selecting the content focus that best matches your group and your needs.
Itinerary
Gather outside Doc Maynard's on First Ave.
Introductions/Ice Breakers/Rules–30 minutes
Hunt ~120 minutes
Team Building Wrap-Up & Discussion–30 minutes
See our other Seattle corporate team building events.
[When you're ready, click HERE to tell us all about your needs or call us at 415-699-3905 to discuss pricing.]