A Great San Francisco Teambuilding Scavenger Hunt in Union Square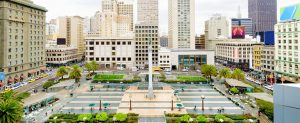 Most people come to Union Square for the shopping, especially around the holidays.  They light a big tree in the square.  The windows of the department stores are decorated with beautiful diaramas–often with puppies and kitties from the humane socieity!    But the area has so much more to it, including statues, plaques, murals, monuments, mosaics and historical signs.   It has a theater district. You'll even get a whiff of Dashiell Hammett and his hard-boiled detective novels.  This is a fun, compact place for a teambuilding scavenger hunt.
Location Description:  Come join us for exploration, adventure and teambuilding in the "heart" of the City.
History:  Originally a rallying point for the Union Army during the Civil War, San Francisco's Union Square today is a major tourist draw and one of the world's premier shopping districts. Grand hotels, small inns, and off-Broadway theaters also contribute to the area's dynamic, 24-hour character.
During your corporate teambuilding treasure hunt… you may encounter:a tavern dedicated to one of the City's best baseball players; a historic building commemorating great US presidents; a copy of the original Maltese Falcon; historic photos of San Francisco's first cable cars, and many other treasures.
Click on the video below to hear more about this hunt, from Dr. Clue Founder Dave Blum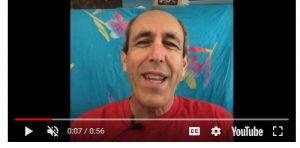 Not every corporate teambuilding program is the same.  Depending on your group, your focus may be integrating new people into the team and breaking down personal boundaries and divisions.    Or you may have an existing department where teams could, with a little practice, cooperate and communicate more smoothly across teams and divisions.  Or you might simply have a group that thrives on the use of technology.     Let Dr. Clue customize your hunt program by selecting the content focus that best matches your group and your needs.
Union Square Team Building Itinerary
Gather in the center of Union Square, near the monument to Admiral Dewey.
Introductions/Ice Breakers/Rules–30 minutes
Hunt ~120 minutes
Team Building Wrap-Up & Discussion–30 minutes
See all of our San Francisco corporate team building programs, indoor and out.
[When you're ready, click HERE to tell us all about your needs or call us at 415-699-3905 to discuss pricing.]