A fascinating place to hold a team building scavenger hunt in Galveston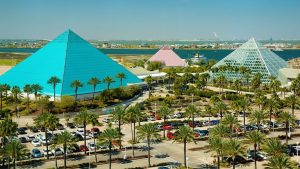 No, this is not Las Vegas, although the pyramids might make you think you're looking at Vegas casino.   In fact, it's a very cool museum and entertainment complex, right on the Coast, within minutes of historic downtown Galveston.  Our hunt focuses the aquarium, which is first rate.   Come for the fish, the sea life, the piranhas, stay for the scavenger hunt!
Event Description: An attractive place for a corporate teambuilding event, Moody Gardens truly has something for everyone.  Where else can you learn about animal and horticultural therapy, attend a convention, relax on a white-sand beach, explore a rainforest, and wander through one of the world's largest aquariums – all in the same day?!!
Location History:  Originally designed in the mid-'80s as a center for hippotherapy (using horses as a way of treating people with head injuries), Moody Gardens has become so much more over the years.
During your corporate team building treasure hunt… expect to enter a Mayan pyramid; penetrate a bat cave; count manta rays, and that's only the beginning.
For more on this head, listen to Dr. Clue Founder and President Dave Blum, below: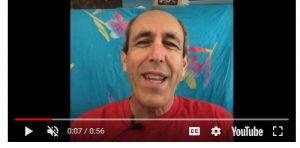 Not every corporate team building program is the same.  Depending on your group, your focus may be integrating new people into the team and breaking down personal boundaries and divisions.    Or you may have an existing department where teams could, with a little practice, cooperate and communicate more smoothly across teams and divisions.  Or you might simply have a group that thrives on the use of technology.    Let Dr. Clue customize your hunt program by selecting the content focus that best matches your group and your needs.
Itinerary
Gather at your hotel meeting room
Introductions/Ice Breakers/Rules–30 minutes
Hunt ~120 minutes
Team Building Wrap-Up & Discussion–30 minutes
[When you're ready, click HERE to tell us all about your needs or call us at 415-699-3905 to discuss pricing.]