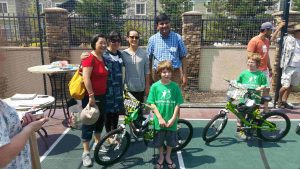 In these tough times, who else gets "left behind" more than the children?  During Dr. Clue's new puzzle-based, philanthropic team-building workshop, your teams will work together to solve a variety of "The Doctor's" favorite puzzles (codes/ciphers/trivia quizzes).   When solved, each puzzle earns your team a piece of a kid's bicycle.  Once all the parts have been collected, you then assemble the bike, decorate it, and create a heart-felt gift card.  As a finale, all bicycles are then presented, in person, to local kids-in-need (from the Boys/Girls Club, Big Brothers/Big Sisters, etc.).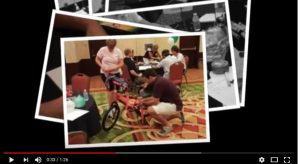 Click here to view a short slide show!
We'll travel anywhere to accommodate your schedule:  your office, your corporate campus, or your hotel/ballroom on the road.
Features:
8-12  fantastic, puzzle-based clues,  pens, decoder sheets, etc.
Several other "team challenges" interspersed with the clues
~2 hours in length (depending on your schedule)
Fully Facilitated
One un-assembled bike/team, plus helmets
Outcomes:
Increased awareness of your teammates on a personal level
Bonding and raised morale
Integration of new members into the team
Practice at delegation and the leveraging of diverse skills and knowledge
Ample opportunities for cross-team collaboration
Chance to give back to a needy demographic: under-privileged kids!
Pricing
For our full pricing sheet: call  415-699-3905 or email sales@drclue.com)
Travel costs may apply, depending on location.
Corporate philanthropy meets treasure hunting!  There's never been a better time to give back!