A great San Francisco Teambuilding Scavenger Hunt in the Exploratorium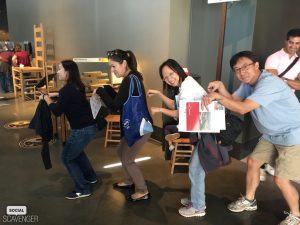 Museums are always a great place for a teambuilding scavenger hunt, but there's something special about hands-on sciences museums — and the Exploratorium is one of the very best.  You'll see exhibits here that you won't see anywhere else in the country, or even the world.   It's a fascinating place to explore during a day out in the City, but a Dr. Clue teambulding scavenger hunt takes it to the next level.  Come do your hunt in the morning, then enjoy the Exploratorium for the rest of the day, with lunch at their elegant cafe.   This is just a super place to explore, get lost and make amazing discoveries!

Venue Description:  With a stated mission statement "to change the way the world learns," the Exploratorium in San Francisco is a science museum like no other.  While engaging in your corporate teambuilding exercise, you won't want to miss the wonders of this 21st century geek's wonderland.
History:  Founded by physicist and educator Frank Oppenheimer (younger brother of J. Robert Oppenheimer) and opened in 1969 at the Palace of Fine Arts, the Exploratorium is perhaps the nation's preeminent participatory center for informal learning, described by the New York Times as the most important science museum to have opened since the mid-20th century. In 2013, the entire shebang was renovated and moved to Pier 15, providing a glittering new home beside the bay for over 1,000 fascinating exhibits and interactive displays.
During your corporate team building treasure hunt… expect to enter the mysterious Shadow Box, discover ghosts within the machine, clamber around the funhouse of perspective, investigate a working camera obscura, and much, much more.
Not every corporate teambuilding program is the same.  Depending on your group, your focus may be integrating new people into the team and breaking down personal boundaries and divisions.    Or you may have an existing department where teams could, with a little practice, cooperate and communicate more smoothly across teams and divisions.  Or you might simply have a group that thrives on the use of technology.     Let Dr. Clue customize your hunt program by selecting the content focus that best matches your group and your needs.
Listen in for impressions of the Exploratorium scavenger hunt with Dr. Clue founder Dave Blum:

Exploratorium Team Building Event Itinerary
Meet at the front entrance.
Introductions/Ice Breakers/Rules–30 minutes
Hunt ~120 minutes
Team Building Wrap-Up & Discussion–30 minutes
See all of our San Francisco corporate team building events.
[When you're ready, click HERE to tell us all about your needs or call us at 415-699-3905 to discuss pricing.]