A great Teambuilding Scavenger Hunt in Healdsburg, CA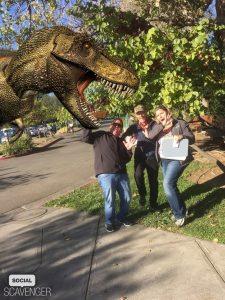 While the tourists all know about Napa and Sonoma, the locals all go to Healdsburg.  It's a charming, small town with fantastic restaurants and tasting rooms scattered about the town square.   It also is the home to one of our favorite cafes, Flying Goat, and one of the friendliest running stores in the nation:  Healdsburg Running Company.   This is just a charming, flat place to explore, with great weather most of the year.  Raise a glass to Healdsburg, the perfect place for a teambuilding scavenger hunt!
Event Description: An appealing, "bucolic" site for a corporate team building event, downtown Healdsburg is an upscale neighborhood with restaurants, boutiques, and coffee shops galore.   Walk 2 blocks away from the town square, however, and the scene shifts to stately Victorians and tree-lined boulevards, b&b's, and more wine-tasting rooms than you can shake a bottle of Merlot at.
Location History:  Once the home of the Native American Pomo people, Healdsburg received its modern name from Harmon Heald, who bought the land in 1857 after squatting here for 7 years previous.  Farming was common within Healdsburg between the 1890's and 1940s before the town began gentrifying and "wine-ifying".
During your corporate team building treasure hunt… expect to see a mural of old Healdsburg, the quaint town museum, a futuristic statue, the old town square, and much, much more.
Click on the video below to hear more about this hunt, from Dr. Clue Founder Dave Blum

Not every corporate team building program is the same.  Depending on your group, your focus may be integrating new people into the team and breaking down personal boundaries and divisions.    Or you may have an existing department where teams could, with a little practice, cooperate and communicate more smoothly across teams and divisions.  Or you might simply have a group that thrives on the use of technology.    Let Dr. Clue customize your hunt program by selecting the content focus that best matches your group and your needs.
Itinerary
Gather at your hotel/conference room, or in the leafy town square.
Introductions/Ice Breakers/Rules–30 minutes
Hunt ~120 minutes
Team Building Wrap-Up & Discussion–30 minutes
See all of our Bay Area corporate team building events.
[When you're ready, click HERE to tell us all about your needs or call us at 415-699-3905 to discuss pricing.]