Clue Trek Onsite Mini-Hunts

Q:  Who really likes parties (especially holiday parties)?    Who really likes business meetings?
A:  Just about nobody!
**WHY IS THAT?**
Office parties can be rough, especially for introverts, because they're so unstructured.  Everyone ambles around aimlessly, trying to make idle chit chat.   Fun for some, torture for most!
Business meetings are rough because they're TOO structured.  There's just so little space for people to laugh, play, express creativity and get to know people they don't already know.
Introducing Dr. Clue's New, Indoor, Mini Treasure Hunts — the antidote to the same old meetings & (holiday) parties!
We help you go from this: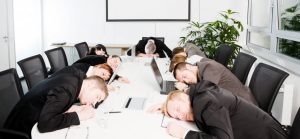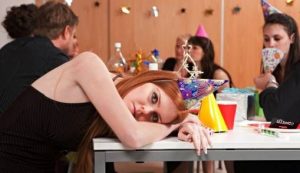 To this: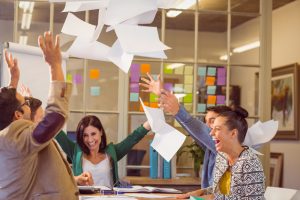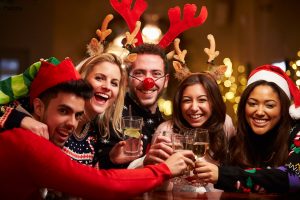 In this 60-120 minute, onsite clue trek program, we come to you! Great for meeting rooms and ballrooms, this onsite, indoor hunt will split you into small teams, with participants moving around the room, solving devilish clues together, leading to mystery photos and items throughout the room. It's kind of like an escape room, without the frustration, for groups of all sizes!
Here's a short video to give you a flavor of the event: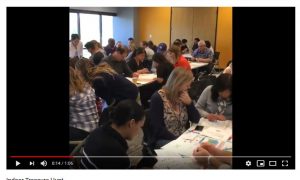 Photo Gallery: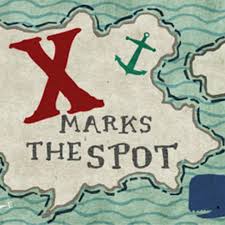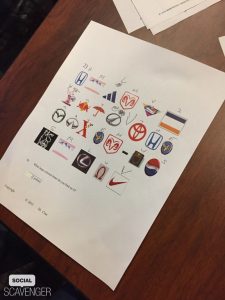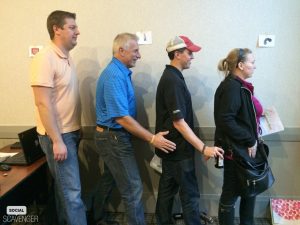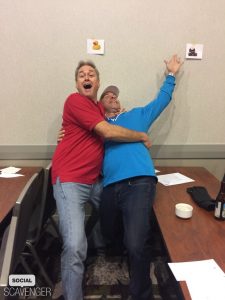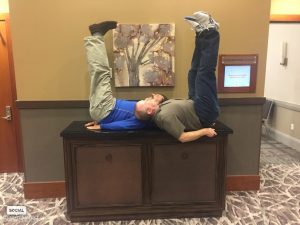 TESTIMONIAL
JobTrain was seeking a new and exciting method of fundraising for our nonprofit, as well as exposing more individuals and organizations to the work that we do.   We needed to find a new and unique way to engage new supporters to JobTrain, in particular a younger demographic. Hosting this team building event seemed like a great way to address both goals. Dr. Clue's enthusiasm over the event matched well with the enthusiasm we were hoping to derive from the active younger demographic.
Dr. Clue was able to work with our organization, and its specific needs, to tailor a fun community-building event for our guests. He goes above and beyond to ensure that: 1) He fully understands your wants and 2) He fulfills them in a professional, friendly and approachable manner.  Dr. Clue took time and care in understanding the unique mission and goals of our event and organization. It was a "thought partner" in refining the details of the event.
All of our guests were fully engaged in the event and had a fantastic time. The variety of clues, clue styles and difficulty level allowed for all participants to be included and feel accomplished. Our Dr. Clue facilitator was very engaging and inspiring, especially in his closing activity with the whole group!
Our guests enjoyed an amazing morning of teambuilding with their own peers, got a chance to meet other community members and made connections with other organizations at this multi-company event. This Treasure Hunt model allowed guests to release their inner child while solving puzzles like a modern Indiana Jones….what's not to love?!    Everyone enjoyed the challenge, the thinking and working together, the fun environment and the uniqueness of the event.
Dr. Clue's Treasure Hunt allowed new organizations, and the individuals who work at those organizations, to become more familiar with JobTrain's goals, work and community. We are excited about the new connects that were forged, and are looking forward to another Treasure Hunt, soon!   Dr. Clue gave us a window into the possibilities of creating an event centered around on team building and uniting community activities. We are looking to build on this year's event and grow for next year!
Sierra Bott
Marketing & Event Specialist
JobTrain
Outcomes:
Increased awareness of your teammates' strengths and weaknesses
Bonding and heightened morale
Integration of new members into the team
Practice at delegation and the leveraging of diverse skills and knowledge
Features:
4-15 of the world's most clever puzzles and clues, incorporating wordplay, codes, ciphers, history, music, literature, geography and pop culture trivia.  Expect anything from Morse Code to Braille, from word puzzles to Pig Latin…in short, the whole kitchen sink.    Our clue writers are Stanford and Yale graduates, so you can bet that these clues are stimulating!  🙂
CLUES CUSTOMIZED TO YOUR COMPANY upon request.

Maps, pens and decoder sheets
Icebreakers & warm-up exercises
Debrief discussion tying the treasure hunt experience back to workplace actions steps
Full team-building facilitation, customized to your team's current issues and challenges
SMART PHONE APP upon request, incorporating photos, video and augmented reality.   All photos are available for download upon completion of the event
Post-hunt video slide show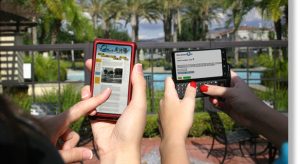 Pricing:  Our fees are based on your estimated headcount.   Call or email us for full pricing.
Note: Travel costs may apply for locations outside of the San Francisco Bay Area.
[When you're ready, click HERE to tell us all about your needs or call us at 415-699-3905 to discuss pricing.]