A Great Teambuilding Scavenger Hunt in Pleasanton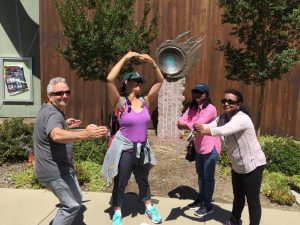 Event Description: A fun, safe and clean outdoor setting for a corporate team building, Downtown Pleasanton is one of the best kept secrets of the Bay Area.
History:   Located in the East Bay about 25 miles east of Oakland, Pleasanton is a charming, upscale town of about 70,000 people. Once the home of Ohlone Indians, Pleasanton saw great changes upon arrival of the Spaniards, who introduced agriculture and vast herds of cattle. A farming region for the next 100 years, Pleasanton grew along with the Bay Area economy, eventually becoming the home to such corporate headquarters as Safeway Inc., Blackhawk Network, and Ross Stores. Today, Pleasanton is a bedroom community, recently ranked as the wealthiest middle-sized city in the United States by the Census Bureau and number 4 in USA Today's list of "America's 50 best cities to live in".
During your corporate team building treasure hunt…expect to encounter a giant Rubik's cube, a mural of cows, three columns of mosaics, and a photo of one of the great NFL coaches.   
Click on the video below to hear more about this hunt, from Dr. Clue Founder Dave Blum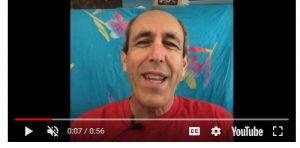 Not every corporate team building program is the same. Depending on your group, your focus may be integrating new people into the team and breaking down personal boundaries and divisions. Or you may have an existing department where teams could, with a little practice, cooperate and communicate more smoothly across teams and divisions. Or you might simply have a group that thrives on the use of technology. Let Dr. Clue customize your hunt program by selecting the content focus that best matches your group and your needs.
Itinerary
Gather on the grass at the corner of W. Angela Street and 1st Street
Introductions/Ice Breakers/Rules–30 minutes
Hunt ~120 minutes
Team Building Wrap-Up & Discussion–30 minutes
[When you're ready, click HERE to tell us all about your needs or call us at 415-699-3905 to discuss pricing.]