The Four Traits of Warrior Teamwork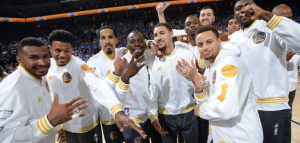 If you had to pick four traits for your work team to embody, what would they be?  Collaboration, perhaps?  Cooperation? Communication?  Surprisingly, when Steve Kerr addressed his group of 14 men before a morning meeting, he omitted many of the traditional team characteristics, instead asking his group to focus on 4 unconventional behaviors: joy, mindfulness, compassion and competition. Apart from the 4th item, one might think Kerr was a Zen abbot speaking before a group of monks at the outset of a week-long retreat in a Kyoto monastery.  How refreshing to discover that he is, in fact, the coach of a professional basketball team – and not just any team. Steve Kerr coaches the NBA-champion Golden State Warriors.  How Kerr has constructed this team – and the values that fuel it – is quite illuminating on a variety of levels, not the least of which for the lessons we can potentially bring back to our own teams in the corporate workplace.
So who are these "Warriors" of the "Golden State"?   Unlike the more storied franchises of the NBA (ie. the Lakers with 16 league crowns and the Celtics with 17), the Warriors have only won a handful of championships in their 70-year history. Until their recent success these last 4 years, the last time they had brought home the Larry O'Brien trophy was 40 years ago, when Rick Barry, Jamaal Wilkes, and Clifford Ray were sporting blue and gold uniforms. At the risk of dating myself, I must admit that I remember that Warriors team very well.  They were most definitely my team while growing up.   Playing across the San Francisco Bay in hard-scrabble Oakland, the W's were tough and gritty, and their '74-75 season was absolutely golden.  And then, abruptly, hard times hit for the Warriors nation: only 10 playoff appearances in the next 4 decades, with the team never going further than the conference semifinals. Heck, there was a 12-year stretch in the 90's and 2000's when "the Dubs" were no doubt the worst team in the NBA, with a sub .500 record again…and again…and again.  I provide the historical background here so you can get a sense of what an anomaly it is to have the Warriors back, after so many years of futility, at a championship level. Something serious must have happened to interrupt their long-standing culture of losing.
The winds began to change for the Warriors in 2011 when the owners hired Mark Jackson to coach the team. A former player, sportscaster and Los Angeles pastor with no previous coaching experience, Jackson brought a fire and brimstone gravitas to the Warriors, with an emphasis on defensive toughness. By his second year, he had turned the team around to the point where they were back in the playoffs.  But still, you sensed that there was something missing. In their current configuration, with the existent coaching and personnel, you just got the feeling there was only so far this team could go.
Enter Steve Kerr. A former NBA player himself, Kerr played alongside Michael Jordan and won three championships with the great Chicago Bulls teams of the 90s before moving over to the San Antonio Spurs, where he won two more titles.  After stints as General Manager for the Phoenix Suns and color commentator on TV, Kerr was hired last year to coach the promising but underachieving Golden State Warriors…and everything changed.  In his first year as coach, the W's won 67 games and the NBA championship, and they did it with a panache that the league hadn't seen since Magic Johnson's Showtime Lakers. In their third year they won an NBA record 73 games, and this year the capped the year with their third championship in 4 years!
So how did Kerr and his staff bring about this transformation? Surely it wasn't just manipulating x's and o's, something the other NBA's can do with ease. For Kerr and the Warriors, it all starts with the mantra: joy, mindfulness, compassion and competition!
JOY: Without a doubt, there is no more joyful a team in basketball than the Golden State Warriors. Led by their always smiling, highlight-reel point guard, reigning MVP Steph Curry, the W's exude a rare exuberance, both on and off the court, that is unique in the NBA. When Curry rains down one of his signature, high-arcing three pointers, his teammates immediately rush over to him to offer a flying chest bump.   On the sidelines, the bench players literally roll on the floor in celebration, as if the wind created by Curry's brilliance has blown them out of their seats.  And the "Dubs" give the same level of support to whoever on the team is providing the highlights (not just Curry). In a recent game, for example, rookie Quinn Cook made an outside jumper and the team went insane: clapping and dancing and rocking a party vibe – all for a struggling 3rd-string player.
MINDFULNESS: Mindfulness can be defined as:
"a mental state achieved by focusing one's awareness on the present moment, while calmly acknowledging and accepting one's feelings, thoughts, and bodily sensations"
Mindfulness encompasses not only the concept of "focus" but also a quality of emotional maturity, of "staying within yourself." Mindful people are able to express their thoughts and feelings AND observe them at the same time.  This is a useful skill for a player in the NBA, where emotions can run high and fouls can cost your team valuable points.  The Warriors are a highly mindful team.  They seldom foul out of a game and rarely draw technical fouls, awarded to numb-skull players who can't control their tempers.  In the NBA, games are won or lost during the last 3-5 minutes of the 4th quarter, and that's where the W's shine.   Their players tend to be more focused and more "present" than their competition, with greater self control.
COMPASSION: Unlike many teams where the coach motivates through anger and criticism, the Warriors display very little finger-pointing.  When the coach dislikes what's happening on the court, rather than scolding people for what they're doing wrong, he specifies what they could be doing right to boost performance.  If someone is having a bad game, he gets a pat on the back from his teammates and a kind word.  Now don't get me wrong: if someone is underperforming on the Warriors, he gets pulled from the court.  There is accountability.  But the W's never disrespect a player for making a mistake.  Their emphasis is always on education…and compassion.
COMPETITION: In all professional sports, success is measured by the number of games a team wins.   Players must be competitive. They must want to beat their opponents. They must want to get that winner's high that comes from making the other team lose.  There is no question that the Warriors are competitive… but they rarely cross the line into boorish behavior. You almost never hear a Warrior disrespecting an opponent, on or off the court.  And this year in particular, you sense that the W's are so dominant that they are mostly competing against themselves, testing their mettle more against the record books than the other teams in the league.
Joy, mindfulness, compassion and competition. As Steph Curry said during a recent interview, "We're just trying to stay focused, stay in the moment, stay mature."
So what lessons can business leaders borrow from the Golden State Warriors? How about these:
Cultivate an atmosphere of celebration—not only for your own achievements but for the accomplishments of others.
Identify core values and make them your mantra.  Whether those values are joy, mindfulness, compassion and competition, or something completely different, the important thing is that everyone is on the same page, with a commonality of purpose.
Encourage and hire for emotional intelligence.  95% of all team problems arise from interpersonal issues; more often than not, the source of those issues is people's ability (or inability) to manage their emotions skillfully.
Instill a culture of caring.  People do their best work when they feel their teammates empathize with their struggles and are there to help.
The Warriors probably won't win a championship every year. (The league IS catching up with them!)  No matter what happens, I plan on enjoying the Warriors racing around on the court, continuing to have a ton of fun while pointing themselves towards another long playoff run.
What will YOU start doing today to raise your team to a championship level?