Team Bonding, Team Building, Team Development — What's the Difference?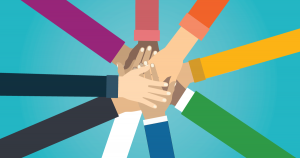 Do you know that Team bonding, Team building, and Team development are not the same thing?    Michelle Cummings does.  She's the Founder and President of Training Wheels, a "Creative Resource for Building Teams".   In this great article from her newsletter, Michelle deciphers the team code, helping you choose just the right program for your team.   [Look for my own comments at the end.]   Enjoy!
—————————————————————–
Team Bonding, Team Building or Team Development?
Michelle Cummings
When I do a needs assessment with a potential client, I ask LOTS of questions to see what type of program they are looking for.  And in my mind, there are three common types of programs in our field; Team Bonding, Team Building and Team Development.
Team Bonding refers to fun, recreational programs that may involve some networking and rapport building.  Team Building offers teams the opportunity for growth, reflection, and potential ongoing learning. Team Development is ongoing 'deep-dive' work that focuses on behavior change and team performance. All three serve a useful purpose, but it's important to know what each type of program entails.
Team Bonding
Is designed around a simpler goal or outcome of having a good time.
May follow a specific schedule, but is not catered to an end workplace goal.
Typically does not require reflection time.
Can act as a stand-alone event.
Team Building
Is designed around a particular goal or outcome that is transferable to the workplace or school environment.
Has an intentional curriculum or flow.
Is designed and/or facilitated by trained facilitator with skills in experiential facilitation techniques.
Allows for built-in reflection time where participants reflect on their experience and relate those experiences back to the real world.
May include follow-up work.
Team Development
Is designed around long-term, targeted organizational goals.
Has a multi-phase curriculum including behavioral assessments.
Includes a minimum of one program a quarter and ongoing coaching for team members.
Is facilitated by a Master Facilitator who works closely with the organizations internal Human Resource team.
Outcomes include behavioral and organizational change.
It's important for organizations to clearly define what their programs offer.  There's nothing worse than a client expecting one thing and you delivering another.  And the flip side of that, clients can sometimes expect you to perform miracles in a two-hour session.  Establishing what is realistic in their Needs Assessment can help both parties have a positive experience.  I find these three categories easy for clients to digest and helps create a shared mental model for what fits their needs, budget and desired outcomes.
Michelle
Michelle Cummings
Owner/Trainer/Big Wheel
Training Wheels
www.training-wheels.com
————————————————-
So, What do you think?   Interesting, huh?    Most of us my clients come to Dr. Clue, asking for what they think is a "team building" program, when in fact, they really only want a "team bonding" event.   Ironically, after a few short minutes on the phone with us, they start thinking, "Hmm, maybe I want a team building program after all.  Why not have this event be fun AND productive?!!"     As a training organizer, it's my job to give my clients what they want, while at the same time presenting them with options that they may not have even considered.   That's why it's so important for clients to move beyond "Here's what I want" and ask "What is possible?"
For more on this topic, listen in with Dave Blum, Founder of Dr. Clue Teambuilding Scavenger Hunts and more.