Carowinds Amusement Park:    A fun site to hold a teambuilding scavenger hunt outside Charlotte, NC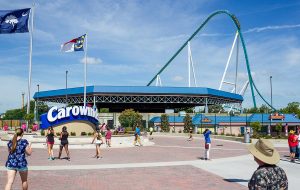 Event Description: A fun place for a corporate team building activity, Carowinds has it all:   thrill rides, family rides, great food, shows and a dinosaur area.    What's not to like?!!
History:    Opening in 1973, the park cost $70 million to build. Spearheaded by Charlotte businessman Earl Patterson Hall, who was inspired to build the park by a 1956 trip to Disneyland and a dream of bringing the two states closer together, also features a 27-acre water park, Carolina Harbor, which is included with park admission. The park has a Halloween event called SCarowinds and a winter event called WinterFest.   The name "Carowinds" was obtained from the park's original theme of the history and culture of the Carolinas, and is a portmanteau of "Carolina" and "winds", in reference to the winds that blow across the two states.
During your corporate team building treasure hunt…you'll explore the park from top to bottom.    Expect to encounter murals dedicated to Nascar and Snoopy, a purple camper (!), a sign dedicated to a roller coaster from yesteryear, an unexpected boathouse and so much more.
Here's Dr. Clue himself, Dave Blum, sharing his thoughts about this teambuilding scavenger hunt: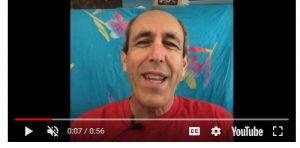 Not every corporate team building program is the same.  Depending on your group, your focus may be integrating new people into the team and breaking down personal boundaries and divisions.    Or you may have an existing department where teams could, with a little practice, cooperate and communicate more smoothly across teams and divisions.  Or you might simply have a group that thrives on the use of technology.    Let Dr. Clue customize your hunt program by selecting the content focus that best matches your group and your needs.
Itinerary
Gather in front of main entrance
Introductions/Ice Breakers/Rules–30 minutes
Hunt ~120 minutes
Team Building Wrap-Up & Discussion–30 minutes
[When you're ready, click HERE to tell us all about your needs or call us at 415-699-3905 to discuss pricing.]