A great San Francisco Teambuilding Scavenger Hunt Near AT&T Ball Park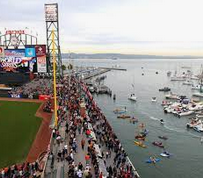 The area encircling and including AT&T park is a San Francisco treat.  The Bay Bridge is right there, of course, along with the Embarcadero and its stellar views of the Bay.  And of course there's the Ball Park itself, surrounded by statues, plaques, murals and baseball memorabilia — along with fantastic entertainment and dining venues.
Event Description: The Ball Park area, including South Park and Bayside Village, is a fantastic place in the City to hold your corporate team-building event.  Play Ball!
Location History:   Established in the 1850s, and ravaged by the fire following the 1906 earthquake, this area was reborn during the tech boom of the late 1990s and is where Twitter was born.  AT&T Park, formerly Pac Bell and later SBC Park, entered the scene in 2000, after the closing of Candlestick Park. It's state-of-the art design and bayside location has earned AT&T the well-earned reputation as one of the nation's most beautiful baseball stadiums.
During your teambuilding treasure hunt… expect to encounter a statue of the great Willie Mays, a memorial to a famous author, mythological figures high on a wall, a wall of inspiration, and so much more.
Not every corporate team building program is the same.  Depending on your group, your focus may be integrating new people into the team and breaking down personal boundaries and divisions.    Or you may have an existing department where teams could, with a little practice, cooperate and communicate more smoothly across teams and divisions.  Or you might simply have a group that thrives on the use of technology.    Let Dr. Clue customize your hunt program by selecting the content focus that best matches your group and your needs.
Ball Park Area Itinerary
Gather in South Park.
Introductions/Ice Breakers/Rules–30 minutes
Hunt ~120 minutes
Team Building Wrap-Up & Discussion–30 minutes
See all of our Bay Area corporate team building events.
[When you're ready, click HERE to tell us all about your needs or call us at 415-699-3905 to discuss pricing.]