A great place to hold a corporate team building scavenger hunt in Santa Monica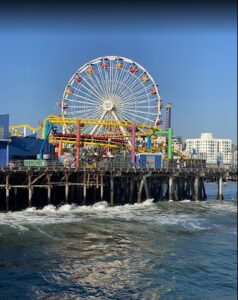 Event Description: Your Dr. Clue corporate teambuilding event takes place on the world-famous Santa Monica pier, a large double-jointed pier at the foot of Colorado Avenue. It contains a small amusement park, concession stands, restaurants and areas for views and fishing. You can find everything here: attractions, roller coasters, quick bites, street performers, history, public art…AND a Dr. Clue treasure hunt!
Location History: Founded in 1909 (!), the 1,600-foot-long concrete Santa Monica Pier took sixteen months to construct. It was the first concrete pier on the West coast at this time. Entrepreneur Charles I.D. Looff later built the famous Historic Landmark, Looff Hippodrome Carousel, in 1922. Pacific Park opened in 1996, giving the Pier its first roller coaster and its first full-fledged amusement park since the '30s. Today, the Santa Monica Pier has almost 9 million visitors per year.
During your corporate teambuilding treasure hunt… expect to encounter: a historical sign about Popeye, a giant compass, a wall of license plates and a wall of fish, and much, much more.
Not every corporate team building program is the same.  Depending on your group, your focus may be integrating new people into the team and breaking down personal boundaries and divisions.    Or you may have an existing department where teams could, with a little practice, cooperate and communicate more smoothly across teams and divisions.  Or you might simply have a group that thrives on the use of technology.    Let Dr. Clue customize your hunt program by selecting the content focus that best matches your group and your needs.
Itinerary
Gather on Ocean, at the gateway to the Pier.
Introductions/Ice Breakers/Rules–30 minutes
Hunt ~120 minutes
Team Building Wrap-Up & Discussion–30 minutes
See our other Los Angeles corporate team building events.
Check out all of our Southern California corporate team building events.
[When you're ready, click HERE to tell us all about your needs or call us at 415-699-3905 to discuss pricing.]