"Mom, Dad, I want to go to Paris."
Looking back, I sure had some chutzpah at age 20, asking my parents to let me go on an exchange program to Paris. This wasn't something you did in our family! Traveling abroad. Spending money recklessly. Stepping off the academic path. But I desperately wanted to go. I craved adventure. And to my amazement, my parents said yes.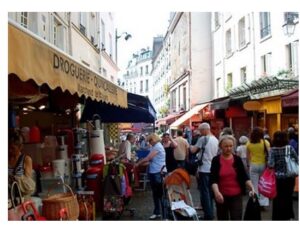 I'm placed in a homestay in the 13th Arrondissement, on the Avenue des Gobelins. (Goblin Avenue—sounds very Harry Potter-ish!). And every day, my route to class takes me along the Rue Mouffetard. At the time, I wasn't aware that this is the one of the oldest streets in Paris. I just like its exotic-ness. Cobblestones under my feet. Flower shops and cafes and bakeries. A market bursting with fruit and cheese and olives. It feels like a Paris from another era, a scene lifted out of Les Miserables.
One of the joys of travel is stumbling across a tableau that evokes a bygone era. That's the Rue Mouffetard for me. A time machine back to a simpler time.
Where is your "time machine" location?