Perhaps the most famous pilgrimage trail in the world is the Camino de Santiago in Spain.
I've never been there.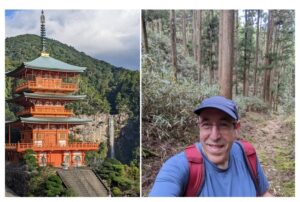 I have, however, hiked Japan's less-famous but equally reverent pilgrimage route, the Kumano Kodo. Tucked away at the bottom of Wakayama prefecture a few hours from Osaka, the Kumano Kodo is 1000-year-old network of forest trails crisscrossing the Kii Peninsula, leading intrepid hikers from one sacred temple to another. It's also the Unesco World Heritage site that no one has heard of.
It's 8am and we arrive at the Kumano Nachi Taisha, a temple complex that includes a stunning, three-story pagoda and also hosts Japan's tallest waterfall. It's a chilly day but clear—the perfect place for our breakfast of hot tea and onigiri rice balls, purchased from the 7-11 opposite our hotel. The pagoda is flat out gorgeous, right out of a postcard – you would think everyone would be coming here. But that's the thing about Japan. Everyone goes to the big tourist attractions: Tokyo, Kyoto, Hiroshima. Very few people, however, seem to get off the beaten track – including, it seems, the Japanese themselves. Every time I've mentioned the Kumano Kodo to other Japanese people, they've always responded, "You've been there?!! I've never been there!"
The pagoda is a quiet place, with not another soul around. We grab a free walking stick from a nearby bin and climb the Daimon-zaka –stone entry steps lined with massive evergreens that lead 600 meters up to the main temple and the starting point of the trail.
The Kumano Kodo is a hard hike, and we only did one day of it! Seven hours of up and down, up and down, with steep, treacherous, stone steps covered by slippery green moss. Boy am I glad we grabbed the walking sticks, particularly on the long, steep, downward stretch. I have never longed for a hot Japanese bath more in my life.
When is the last time you tried something really hard? When is the last time you felt like you were walking on the shoulders of giants? What if you sought out such an experience tomorrow, or better yet, today? Wouldn't that be a wow?