Say what you will about Myanmar (formerly Burma) and its often upsetting government, but the country sure has its share of Wow Places.
In Wow Place #9, I mentioned the dazzling ruins of Bagan. But they're not even the best sight in Myanmar. In my opinion, the country's wow place to end all wow places has got to be the Shwedagon Pagoda in the capital, Rangoon.
Imagine a towering golden stupa on a hill, 325 feet high, surrounded by a variety of mini pagodas, some golden, some silver, some white. Each one is different, and there are dozens and dozens of them. Extending around the mini pagodas is a flat, open, marble terrace, backed by more temples and mini-pagodas. It feels a bit like being in the middle of a high-end chess board.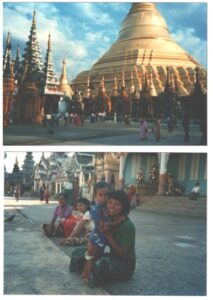 I arrive at midday and decide to hang out – all day. It's warm, so I join the many other families who are sitting in the shade, taking in the pagoda and enjoying a nice afternoon chat. Every so often, a group of women descend on the terrace with brooms, sweeping the area clean of accumulating dust. It's one of the most peaceful places I've ever been, and the most exotic. My overwhelming feeling is of gratitude – that I'm healthy enough to visit a place like this. That I have the resources to fly half way across the world to be here. That this place still exists in the world, and that the locals care enough to keep it in pristine condition.
When was the last time you just relaxed into gratitude? What can you be grateful for right now? Who will you share your gratitude with?