Apart from the Great Wall of China and the Pyramids in Giza, there probably isn't a site in the world more iconic than the Taj Mahal. Everyone knows what it looks like: its white onion dome, its four thin towers, its great, rectangular, reflecting pool I've been there twice and can confirm; the Taj Mahal is one of the most beautiful and impressive places in the world. The colored glass imbedded into the walls of the building, like precious jewels twinkling on a bed of snow, are particularly lovely. I love the Taj Mahal. I think everyone should go there. But what's really "Wow" for me about the Taj is the fascinating ecosystem revolving around it.
Donica and I arrive in Agra around 10am, figuring we have abundant time to tour the Taj before grabbing a bite to eat and then catching a train back to Delhi. Instead, we're greeted by a line of prospective visitors (all Indian) at the front gate that stretches down the street for at least half a mile. It's going to take hours to get through that line! Looks like we're out of luck today. No Taj for us!
Not so fast!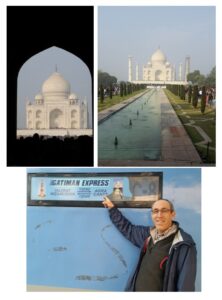 Approaching us from a nearby shop is a highly curious fellow –kind of Indian-looking, kind of Caucasian, with very pale skin, almost albino.
"Hi, I'm Raj. I'm from Australia. I can help you get into the Taj. Come with me."
My scammer radar is on high alert, but what choice do we have? It's Australian Raj, or no Taj.
Walking us over to the foreigner-only window (not labeled!), Raj instructs us to buy our tickets and then come find him. A few minutes we have our tickets…but what to do about that epic line?
"Give me your backpacks. I'm going to leave them at my friend's shop. Then I'll get you into the Taj. I have a relationship with the guard."
I wasn't born yesterday and this sounds like the ultimate rip-off job. However, Raj is our only ticket inside the Taj and he seems honest. Given that we've prudently left nothing of value in our bags, we decide, perhaps against our better judgment, to take a leap of faith and trust him. Minutes later Raj is escorting us to the front entrance, where his guard friend motions us to squeeze into the narrow space behind him and the wall. Visions of Indian prisons dancing in our heads, we shrug and do as we're told. And voila, just like that, we're through the gate and into the grounds of the Taj Mahal!
"Come with me. I will now show you all the good photo spots."
"Whatever you say, Raj."
And so ensues the fastest tour of the Taj Mahal you could ever experience.
"This is a good photo spot. Give me your camera."
"This is another good spot."
"Not there, over here."
"Hurry. We must move on now."
In all, our "tour" of the site takes about 30 minutes and I'll give Raj credit, he really does know some good spots for pics. And just as suddenly, we're back at the front gate. Needless to say, Donica and I would *love* to have more time in the compound to hang out, walk around and soak up the atmosphere. But remember, Raj's storekeeper friend has our bags! Approaching the same guard, Raj motions us to squeeze back into the same gap behind him and the wall. However, due to some pushing and shoving at the regular exit, the narrow passage behind the guard has compressed somewhat. To get through, we now find ourselves needing to bend backwards unnaturally like that scene from the Matrix where Neo is dodging bullets.
Eventually we survive the ordeal and allow Raj to escort us back to his buddy's shop, where our bags are thankfully waiting for us, unmolested. Beholden to Raj and company, we now feel obliged to sit through the shop keeper's half-hour pitch about why we should buy some souvenir marble "from the same mines that supplied the marble for the Taj Mahal!" Respectfully declining on the marble, we escape Agra with a mere packet of postcards and a shrug of the shoulders from Raj, who wanders off in search of his next victims.
When was the last time you took a leap of faith and trusted someone, putting faith in your gut instincts? Did it pay off? How would your life be different if your gut was so finely tuned that you could always trust it to steer you right?