Okay, I'll admit it. I like chasing movie sets. I get a perverse thrill from visiting places I've seen in TV and movies. In fact, I'm still kicking myself for missing out on the Lord of the Rings tour while visiting New Zealand. (What was I thinking?!!)
Let's see. The Sound of Music tour in Salzburg, Austria – that was pretty cool. The Monarch of the Glen tour in Laggan, Scotland — definitely a highlight. But in my mind, nothing beats seeing, in person, the floating palace from the James Bond film, Octopussy. Set in the middle of lake Pichola, surrounded by white-washed buildings, the Taj Lake Palace hotel in Udaipur, India is a real gem. In the film, the Taj Lake Palace doubled as the secluded lair of the film's eponymous Bond Girl, played by Swedish actress Maud Adams (who appeared in 2 Bond films). In reality, the building was once a Maharana's palace, constructed between 1743-1746 by Maharana Jagat Singh II before being converted it into a heritage hotel in 1963.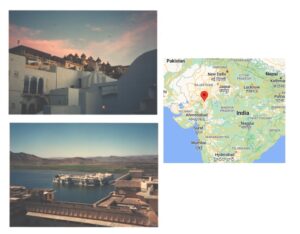 It's 1988. I've come to Udaipur to recover from the effects of that cold thali I ate in Jaisalmer (Wow Place #33). My guest house is nothing to write home about but it does have one A+ feature: a rooftop restaurant. For seven days, all I do is sit on the roof, drinking mango lassis, and goggling at the lovely Lake Palace, a marble princess cake floating serenely on an exotic lake at the heart of Rajasthan, India's most exotic state.
Did I ever actually stay at the Taj? Alas, I didn't have that kind of budget at the time. But you don't have to actually touch the stuff of your dreams, do you? Sometimes it's enough to sit, observe and imagine yourself in that faraway land, wooing Maud Adams in an ornate boudoir in a Maharana's palace.
What if you adopted a mindset of enjoying things without needing to buy or own them? How might that shift things for you?