If you're a foodie like me, you're in the habit of seeking out big, bold flavors. On the other hand, there's a case to be made for the pleasures of a more subtle flavor profile.
The same is true for travel.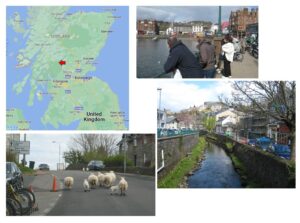 Unlike countries like India or Thailand, with their knock-your-socks-off sights, Scotland is a nation of subtler attractions. Okay, sure, Edinburgh and the lochs (Loch Lomond, Loch Ness, etc.) are very impressive indeed, and the Isle of Skye is certainly a big, bold, gorgeous place. But if you looking for a place to slow down, an area of subtle charms, you could do worse than spending a few days in quaint Oban and the Isle of Mull.
My mom, Shirley, and I arrive in Oban on a cold, blustery day and check into the gracious High Cliff B&B. We then spend the day touring the small downtown, huddled along the curve of a half-moon harbor. We eat tremendous fish and chips and sticky toffy pudding at a local hole in the wall before making our way to Oban's wow attraction, the Oban Distillery. One of the smallest distilleries in all of Scotland, Oban has been cooking up Single Malt Scotch Whisky since 1793. It's a tiny little place with a wooden tasting room, where they offer you candied ginger before tasting your drink. I can almost feel the history around me, generations of locals enjoying world-famous whisky in a room the size of my apartment back home.
As the Distillery states on their website: "When expansion isn't an option and the volume we're able to produce is limited, we stand on quality, authenticity, and heritage."
A short boat ride across the harbor from Oban is the lovely Island of Mull, the second-largest island of the Inner Hebrides (after Skye). We take the car ferry so we can drive the loop around the island. It's a wind-swept place, with hair-raising single-car roads and more sheep than you can shake a stick at. (If you're prone to stick shaking, that is.) According to my guidebook, Mull is known for being the home of the CBeebies program, Balamory, based around the colored houses of Tobermory. This means nothing to me, having grown up in the States, but I can appreciate the colorful house and serene vistas.
Our Mull highlight: having our progress in a small town stopped by a herd of sheep who are walking from one side of the street to the other before hustling inside a church. Very devout, these Mull sheep!
Spending a couple of days in Oban and Mull is perhaps slightly less than a feast for the senses, but it sure is a satisfying, subtle repast.
Wow.