We travel for the sights and the monuments; what we remember are the people.
Heading toward our hotel in downtown Tokushima, a mid-size city in eastern Shikoku, I motion to my friend to pull over at a nearby parking lot.
"This is the place, according to HappyCow (a search app for vegetarian dining).
"The building is all pink Dave. I don't think I can handle another cutesy Japanese restaurant!"
"Come on, Adam, give it a try. It's not easy finding vegan places in Japan, especially out here in the countryside!"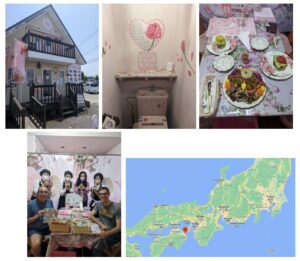 Cutesy doesn't even begin to describe LJ. Everywhere you look, it's pink hearts and pink flowers. Even the bathroom has a huge heart on the wall, with a pink rose inside and a poem that begins, "Love that doth reign and live within my thought and built his seat within my captive breast." What?!!!
Side note: my wife, Donica, would love this place. She adores pretty much everything cute and Japanese (redundant perhaps), particularly the ubiquitous Hello Kitty. Myself, I don't mind cute ("kawaii" in Japanese) as long as there's some good food on the other end.
Adam and I are escorted into a side room – perhaps the pinkest room in the joint – and joined by our waitress, Mie, who has traveled to the States and speaks some English. She explains that the restaurant is dedicated to peace on earth and vegetarian/vegan food – not the kind of high-minded eatery we might expect to find along the roadside in rural Japan. The English menu, all pink swirls and hearts, exclaims "Love!" "Joy!" and "All menu items contain kanpo and medicinal herbs!"
Mie recommends the set menu, which includes artfully displayed veggies, tofu skewers and edible flowers. "We've never served this before. Please try!" Why not? As an appetizer, we dine on veggie burger sliders with colored, rose-shaped buns. It's a very weird meal, to be honest. Nothing quite tastes like I expect it to; even the buns are more cake than bread. But who cares?!! We're in Japan, at the cutest vegan restaurant on the planet, surrounded by delightful waitresses who make us feel like we're the most important guests in the world!
After our meal, the entire staff (all women) come out of the kitchen and offer us a choice of a free gift from a basket: I choose a cool handkerchief with macaroons all over it. In return, I give each staff member a fridge magnet with a picture of the Golden Gate Bridge. Much bowing and "thank you's" ensue. It's one of those a unique cultural exchanges that happens remarkably often in Japan, if you're willing to open yourself up to happenstance, and "kawaii." Upon leaving, I swear that I will definitely be back – with my wife!
John Lennon once wrote: "Life is what happens when you are busy making other plans."
What if, at least once a day, you took a break from planning and just let serendipity take its course? What wonders might fill the vacuum?