I feel about Kyoto, Japan the same way I feel about Florence, Italy: it's just too touristy! Almost everywhere you go in Kyoto, the sheer volume of foreign visitors overwhelms the attractions, turning them into mini Disneylands. Okay sure, no visitor to Kyoto wants to miss its world-class site: the Golden Pavilion, the Silver Pavilion, Kiyomizu Temple, the Bamboo Forest or Ryoanji zen garden. But what do you do when you want to get away from the crowds? Where do you go to find the quiet, peaceful, traditional Japan?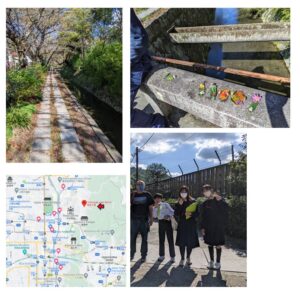 For my money, Kyoto's premier place to unwind is the serene Philosopher's Path, a site I visit pretty much every time I find myself in town. Running from Ginkakuji (the Silver Pavilion) down south to Nanzenji Temple, the "Tetsugaku no michi" is an extremely pleasant, 1.25 mile stone path winding its way through the northern part of Kyoto's Higashiyama district. Following a canal lined with cherry trees which explode in the spring cherry blossom season, the Philosopher's Path is a quiet, unassuming place, an area to stroll along peacefully, without an agenda (or a selfie stick). It got its name from one of Japan's most famous philosophers, Nishida Kitaro, who was said to practice meditation while walking along the canal on his daily commute to Kyoto University.
Donica and I arrive at the Path around noon on a cool October day and immediately embrace the chill, relaxed vibe. Old houses here and there. Moss-covered walls. A shallow, tree-lined canal. What more can you want? After a half hour or so, we come across a young couple dressed in formal wear — she in a lovely pink kimono, he in a dark haori overcoat – posing for wedding photos. Nearby, an old man on a bridge is making little boats out of leaves and twigs. He offers a boat to each of us, no charge, directing us to drop them into the canal; if the boat lands upright and floats, it's good luck! If it flips and capsizes, perhaps we watch our backs.
Our final interaction on the Philosopher's Path happens near the southern terminus, when a group of junior high school students ask if they can interview us for their English homework. "Where are you from? How old are you? What do you think of Japan? It's a sweet and simple conversation, and a fitting end to a serene afternoon on the Path.
How are you managing your FOMO (fear of missing out)? Do you find yourself running around frantically, making sure you check items off a list? How about taking a day off and simply exploring, agenda-less? How about making a point of doing that at least once a week, no matter where you are?