I've written quite a lot about the amazing natural gifts to be experienced in Japan (ie. Wow Place #59 Nakatsu Gorge, #40 Oirase Gorge, #34 The Nakasendo, and #25 Kumano Kodo). Someday I'll do an entire trip to Japan where I avoid ALL the major cities completely and just revel in nature. But that does not mean I dislike Japanese cities. I'm quite fond of them, in fact: how well organized they are, how clean, how safe. And occasionally, how absolutely bonkers they can be!
"Dave, look up. Isn't that a giant hand sticking out of a building, holding a pair of sushi?"
"Yeah, Donica, and look over there, I think it's a giant moving crab!"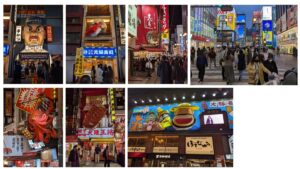 Osaka's entertainment district, Dotonburi, is a bit like the Las Vegas, New Orleans' Bourbon Street and NYC's Time's Square, all wrapped into one — without the gambling or the seediness. Call it wholesome, night-time Disneyland on steroids. Everywhere you look, it's neon signs, bars and restaurants. But what blows my mind about Dotonbori are the giant, often-animated, wall decorations jutting out of the building walls. Jockeying for attention with the over-sized sushi and crab are a giant squid, a giant octopus ball, some giant potstickers, and even a giant ferris wheel embedded into a building wall. Not only are the streets jam-packed with every kind of eatery but street performers are busting their best break-dancing moves. In every way, Dotonbori is a free-admission, round-the-clock, after-sundown circus.
"Why didn't I know about this place before, Donica?"
"What do you mean?
"Well, the guidebooks always talk about the glitzy lights of big-city Tokyo. But no one ever mentions Osaka!"
Osaka is one of Japan's un-heralded treasures, a big, live-able city centered around food and fun. And animated crabs. Wow.
When's the last time you went somewhere or did something and found yourself completely and utterly surprised? So many of life's wonders come to you when either you 1) slow down and open yourself to serendipity or 2) stop having expectations at all.