So much of what makes a Wow place a Wow place is the unexpected. You arrive in a city, a park, a museum, whatever, thinking it's just a brief stop on the way to someplace better, and then realize that where you're at is astonishing in its own right.
Such are my feelings about Bologna, Italy.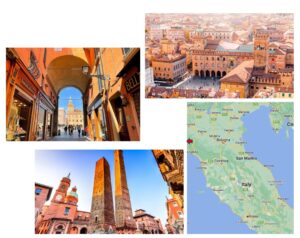 A typical bucket list for a trip to Italy generally includes the "big three": Rome, Florence and Venice. Throw in Lake Como, the Amalfi Coast, and Tuscany and that's your travel itinerary right there, am I right? Listen, I'm not going to throw shade on any of those places; they're wonderful. But while you're on your way from Florence to Venice, why not stop in the amazing Bologna? Known as the "Fat City" for its delicious food, Bologna is also sometimes called "Red City" for its Spanish-style, red rooftops. According to Wikipedia, it's also called "Learned City" as it's home to the oldest university in the world.
My partner and I arrive in town a bit late after a long train ride from Florence. As we drop our bags in our hotel room, I look out the window and gape: "Get a load of that!" Our room, it seems, overlooks a gorgeous square, the Piazza Maggiore, replete with columns, arches and a clock tower. It's positively medieval, totally beautiful and completely unexpected. "This place is gorgeous! Why hasn't anyone told us about Bologna?!!"
Exploring town next day makes one thing clear to us: there isn't much in the way of "famous sights" to see in Bologna. A couple of churches here. A small museum there. This isn't the kind of place where you discover a Michelangelo sculpture or a Roman Colosseum. In Bologna, the city, itself, is the main attraction, with its long, medieval porticos (many of which have painted ceilings) its broad stone piazzas, its crazy-thin brick towers, some of which are leaning at precarious angles like their famous cousin in Pisa. Bologna's architecture is a delight to explore, but that's not all of it. The real reason you come to Bologna is for the food.
Let me put it this way. Every day we spend in Bologna, we come across one item of food that is the best thing we've ever had.
"This is the BEST gelato ever!"
"This is the BEST ravioli ever!"
"You have to try this tiramisu. It's, well, I can't even describe it; it's sooo good!"
Bologna was once the bread basket of Italy, and that legacy of quality cuisine continues. Did I mention the gnocchi? OMG.
Bologna is a gem hidden in plain sight. We discover places like this when 1) we stop listening to the "authorities" and find our own treasures, and 2) we embrace the present and truly appreciate where we are right this second. Wow.