"When twins are separated, their spirits steal away to find the other." – Jandy Nelson
There's a tale that everyone who visits Unpenji Temple, in Shikoku, Japan, can find a look-alike statue. I don't know about that. I walked up and down that temple, peering closely at the 500 extremely-expressive Arhat (statues of Buddh'as disciples), and I never did find my twin. But I did find:
• A bearded guy holding a lion
• A bald man with eyebrows so long they reached to his knees
• A holy man with a monkey in his lap
• A happy father with 4 bald kids climbing all over him like a jungle gym
• A traveler with a demon on his back
Although I didn't particularly resemble any of these characters, I can certainly appreciate the vast creativity that went into sculpting Unpenji's hundreds of distinct, fanciful statues – a collection that would give the terracotta army in Xi'an a run for their money.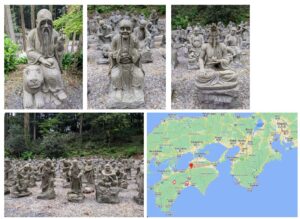 The lovely mountain-top Unpenji is the 66th temple of the Shikoku 88-temple pilgrimage, believed to be founded by the monk poet, Kobo Daishi. As the story goes, when he was 16 years old, he climbed up this mountain and built the hall. One sees Kobo Daishi memorials throughout Shikoku – the guy got around! Following in his footsteps, today, are a huge variety of pilgrims ("henro"), from enthusiastic tourists (in their cars) to intrepid foreigners seeking a touch of the old Japan, to actual Japanese monks on a spiritual quest. In almost all cases, the pilgrims are clad all in white, wearing conical-shaped hats made of straw. Although I only visited about 10 of these temples while in Shikoku, I found each one to have its own singular character – like the Arhat statues, I suppose. By the way, a full walking circuit of all 88 temples takes about 6 weeks, making the Shikoku 88-temple pilgrimage comparable to Spain's Camino de Santiago.
I was glad we had a car.
(As a whole, human beings are purpose driven. We need projects. We need quests. We need pilgrimages. What's one step you can take today toward finding a challenging, worthwhile goal?)