"You, get in line!"
"You, single file!"
"You now, two by two!"
"You now, single file again!"
"No photos!"
As anyone who knows me can tell you, I don't like being ordered around. There's something about that directive "command form" grammatical structure that sets my teeth on edge. You can imagine, then, my dismay at being micro-managed to death by the guards at the Ho Chi Minh Mausoleum in Hanoi, Vietnam.
The overwhelming experience of a visit to the mausoleum is non-stop queuing up. From the moment you set foot on the grounds, you're put in a line. Then, as you proceed toward the inner sanctum, where "Uncle Ho's" body lies in state, you're pushed and prodded into whatever line formation the guards see fit. Single file, double file – it's a constant reconfiguration for no reason I can discern. At times, it feels like they just enjoy messing with you. The one, over-arching rule is "No photos allowed!" Considering the machine guns all the guards are all packing, I'm not inclined to break any rules. Not if I don't want my own mausoleum anytime soon.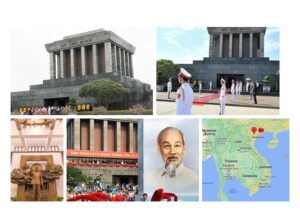 Ho Chi Minh, of course, was the President from 1945 until his death in 1969. A communist revolutionary, nationalist and politician, Ho was pretty much the architect of the modern state of Vietnam. As one might expect, his mausoleum is pretty darn impressive, in that classical, communist, imposing style that communicates order and authority. Winding our way into the inner sanctum, we eventually reach the perfectly-preserved remains of Ho Chi Minh himself, a fairly-spooky, Madame Tussaud moment. The guy looks like he might sit up, point his finger at you, and yell, "Stay in line! No pictures!"
Wow.
(What's your hot button? How do you react when your hot button is pressed and every fiber of your body is telling you to react? Can you stay "in line"? Focusing your attention on the reactions in your body is a helpful way to create a buffer between the activation of your hot button and "acting out." "Hmm, I feel tightness in my stomach. That's interesting. I wonder what's going on.")