I'm somewhat ashamed to admit that when I travel into town, I tend to avoid city parks. It's not that I don't like them; it's more that cities attract me for city attractions. In a metropolis, you can find museums, plays, musicals, bars restaurants, churches and temples, public art, historical sites, etc. In short, "city stuff." Isn't a city park basically an attempt by planners to bring a bit of the country into an urban area? In other words, why should I go from the country into the city to find more of the country?
Stanley Park in Vancouver changed my mind about city parks. Perhaps it's the park's location, way up in the north part of the city, like a hat sitting on downtown's head. Most public recreation areas lie right in the heart of the city, reminding you that this is an oasis, a brief intermission from your daily life amidst the skyscrapers. Visiting Stanley Park feels like you've crossed a line and completely left the city.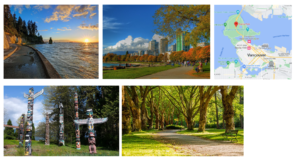 There are a loads of activities to enjoy in Stanley Park, from hiking, to playing with your kids at one of the many playgrounds, to visiting the Vancouver Aquarium. It should come as no surprise that Trip Advisor named it "The Top Park in the World" in 2014. But if you're at all able, you really need to rent a bike in the park and ride. You'll pass lakes and totem poles. You'll glide through half a million trees. And best of all, after a long, gradual climb to the top of the park, you'll coast down to the sea wall, the "world's longest uninterrupted waterfront path," a paved, multi-trail right along the water. You just don't have this experience in most city parks – rolling along a gorgeous waterway, with a beautiful view of the North Shore mountains and Lions Gate Bridge. If you're feeling peppy, of course, you can keep on riding all the way to False Creek, Science World and Granville Island.
Stanley Park defies expectations – or at least, my own expectations of what a city park can be. Is it city, is it country? For me, it's all rock and roll. 😊
(City parks are like people. They're often more than you expect. Or less. The point is expectations are made to be discarded, like tissue. The real trick is bring an open mind to wherever you travel and whomever you meet. I'm guessing you'll be surprised at what you discover when you greet each new experience without preconception.)