When I was growing up, I loved the movie Planes, Trains and & Automobiles, with Steve Martin and John Candy. You don't even need to see the movie to guess what it's about: two guys trying to get to an intended destination via a variety of modes of transportation. Needless to say, Steve and John start out driving each other crazy before finally realizing that shared ordeals like this can lead to teamwork and eventually, friendship.
Getting to secluded Railay Beach in southern Thailand is less Planes, Trains & Automobiles and more Overnight Trains or Overnight Buses, or Planes, and Definitely Long-tail Boats. In short, there are a lot of ways to get there from Bangkok, and they all take time and effort. Back in the 80s when I first visited Railay, I took a cramped, overnight bus to Krabi, then a series of long-tail boats to the beach. Unlike today, when Railay is fairly dominated by luxury resorts, the beach back then was a backpacker's paradise where you could simply show up at one of the few guesthouses and secure a simple bungalow. Most of the time, anyway. When I arrive late on a Sunday evening, I'm informed at each inn I visit that the rooms are ALL booked up. There are no vacancies tonight! However, one understanding proprietor offers, "You can sleep on the floor in a room with our construction crew. Maybe I'll have a room for you tomorrow." Which is exactly what I do, and it all works out.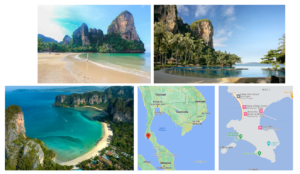 When I wake up the next morning, I'm reminded why getting to Railay Beach is worth the effort. Imagine a perfect crescent of white sand, surrounded by limestone karst outcroppings. The water is emerald green and perfectly clear for 50 feet. Palm trees and jungle abound. Quite simply, this is one of the most beautiful places I've ever visited. (It's still in my top 5!). What makes Railay so unique is that it's actually a small spit of land with two beaches – one on each side of the narrow isthmus. In other words, you can walk from stunning beach to stunning beach, one facing east and one facing west, in about 10 minutes. As far as things to do, people come here for the rock climbing. If you're not feeling as energetic, which I am most certainly not, you can play a little volleyball or just relax, read or write postcards. Railay feels like you're safely tucked away in a tropical paradise, with nothing to do but soak up the gorgeousness. Or at least, it felt that way in 1987. I'm guessing the backpackers are long gone these days, but there's no way even the arrival of bigger hotels and fancy-pants tourists can disrupt this kind of awesome beauty.
(I grew up with parents who disliked "making a production" of things. If it required a lot of organizing and planning, forget it. But some experiences DO require some effort – like getting to an obscure tropical beach in Thailand. What's holding you back from making your next "production" a reality? As the philosopher Lao Tzu once said, "the journey of a thousand miles starts with single step." Or in some cases, a plane, a train or a long-tail boat.)