"You're looking strong Dave."
"I can't breathe, Donica."
"Only 6 miles to go. You got this!"
It seemed like a good idea at the time. If I'm going to run a marathon, why not do it on dirt – easy on the knees – and in a park – lots of tree cover. Huddart Park in Woodside, CA, about halfway between San Francisco and San Jose, meets both criteria. It's a *beautiful* park, with miles of soft trails and commanding redwoods. If you find yourself in this part of the world, definitely come to Huddart for a walk or hike, especially in the winter months when the streams are full and everything is lush and green. Think Muir Woods without the crowds.
I'm not sure, however, that I'd recommend Huddart Park for your first marathon. The place is HILLY with a capital H, not to mention hot and dusty, especially in mid-summer months like July when the air can be a bit smoky. The frustrating thing is, I was ready for this challenge. I'd trained for months and months, doing several runs over 20 miles in distance. What I hadn't counted on was the 3,000 feet of elevation, or the fact that my sports asthma would kick in at around mile 13.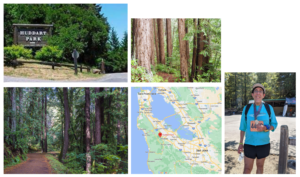 What gets me through? The three Ds: 1) Dates 2) Donica and 3) Determination. Dates are my fuel of choice – compact, full of natural sugar and fiber, easy on the stomach. About once an hour I chomp down a date with a bit of sweet potato as a kicker, and feel rejuvenated. It doesn't hurt at all that my sweetie, Donica, is working at the aid station at mile 20. As I come lumbering around a corner into the stop, there she is clapping, cheering, and radiating encouragement, which I'm desperately needing. Interestingly, my body isn't hurting very much, as I'd feared beforehand. My legs are feeling pretty good, to my surprise, but I'm struggling with breathing. That albuterol inhaler I carry with me on long runs just isn't doing the job! Luckily, the last 6 miles of the race are mostly downhill through the redwoods. Still, during those last, oxygen-deprived miles, determination definitely comes into play as I keep reminding myself, "I know you want to stop Dave, but you came all this way. You've devoted 4 months of your life to this training. You might as well finish this sucker. Run to that next tree and see what happens!"
I wind up finishing my first and only marathon after 6 hours and 48 minutes on the trails. Afterward, it takes me over an hour (!) to catch my breath. Still, I have to say that I've probably never felt quite so satisfied (and relieved). I set a goal, I worked at it day after day, week after week, month after month, and I brought it all to fruition. Thank you Huddart (you smoky, hilly, marvelous park)!
(What' your marathon? Human beings are goal-driven creatures. Although we dream of a retirement filled with idleness and relaxation, in fact most of us are happier when working on a challenging, long-term project where we can measure our progress. You don't have to start today or tomorrow, but what if you committed to starting to think about a stretch project. If you were going to do something big and audacious, what might it be?)