When someone says this restaurant or that movie or this museum is "one of a kind," how do you react? My own first thought is, "Well, does 'one of a kind' mean worth visiting or does it just mean unusual?" After all, there is a Microbes Museum in Amsterdam that is undoubtedly one of a kind, but that doesn't mean I want to visit it.
These are the kind of thoughts I'm having as Donica and I roll up to Disney Sea in Tokyo. As all fans of the Mouse probably know, Disney has 12 (!) theme parks around the world, in such far-flung locations as Paris, Singapore and Hong Kong. Half of them are "Castle Parks," with a castle as their central icon. Think Disneyland, Disneyworld and Tokyo Disneyland. Tokyo Sea is different; it's "one of a kind." Although not a "water park" per se, with water slides and the like, Disney Sea is based on water. As you enter, you're greeted with a massive lagoon surrounded by Mediterranean-style buildings, lending the area an Italian, Amalfi Coast vibe. At the far end of the lagoon stands a backdrop of foreboding mountains and volcanoes, suggesting a King Kong attack from Skull Island might be imminent. Right from the get-go, you understand that Disney Sea is like no other Disney park. Along with the general lay out, the park also features a few signature rides that are unique to the location, such as 20,000 Leagues Under the Sea, Journey to the Center of the Earth, and Sinbad.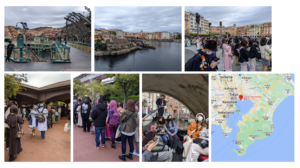 Overall, I'd say we enjoy our visit to Disney Sea, but maybe not in the typical ways. The signature rides, to be honest, are kind of "meh." "Journey" is kind of your typical "diorama" attraction, where you noodle around a cave looking at animatronic creatures while avoiding not-very-scary monsters. "20,000 Leagues" is pretty similar, although the under-water submarine effect is admittedly cool. "Sinbad's Storybook Voyage" is basically "It's a Small World" with an Arabian feel and mythical creatures. No, the new attractions aren't all that. However, we DO enjoy our Venetian gondola ride, complete with jolly boatmen singing (in Japanese). The "Transit Steamer Line" boat ride around the park is totally chill and relaxing. The water-related shows on the lagoon are extremely well done. I'm sure the more-familiar rides, like "Soaring" and "Tower of Terror" are still quite good, although the lines are just too long for our taste. (Soaring had a 3-hour wait!) No, what we enjoy most about Disney Sea is the intricate design and decorations. This is a beautiful park! The detail is amazing, particularly around the 20,000 Leagues attraction, a steampunk wonderland. We also can't help gawking in delight at all the visitors dressed up and "cosplaying." Apparently if you're a Japanese young person, you can't visit a Disney park without donning your favorite costume, whether it's a Disney or manga character, or simply some version of a cute punk. My signature moment: when Donica approaches a tough-looking teen in full punk regalia and asks to take a picture with her. Immediately, the girl's expression changes from "rebel with attitude" to "OMG, a selfie with my new best friend!"
It's that kind of thing that makes a visit to Disney Sea truly a "one of a kind" experience.
(Traveling is full of expectations. "I can't wait to go to Disney Sea—we're going to love it SO much!" And then reality hits. The thing you're super excited about is okay but not amazing. Life is the same way, isn't it? The trick is both to allow yourself to be excited AND to allow yourself to be disappointed. In other words, have ALL the emotions! Then, faced with reality, pivot to a win-win, ie. if this place, this job, this relationship isn't all that I expected, what DO I like about it? If I look more closely, what are the enjoyable subtleties that lie under the service, beyond my expectations?)